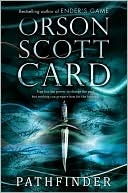 Following right on the heels of The Lost Gate, also by Orson Scott Card, I went straight into another OSC book, Pathfinder. I liked Pathfinder much more than The Lost Gate. I got this one, too via the local libraries digital checkout (via Overdrive).
Pathfinder has two interwoven storylines – one is a sci-fi storyline and one is a medieval storyline. For the first half of the book I had no idea what they had to do with each other and the sci-fi storyline actually started irking me because the other was so much more interesting. Eventually, it made sense once all was revealed. This is a book that can easily be spoiled by the wrong summary of it so I won't go into any detail about the plot (and don't go reading summaries elsewhere). Here's a hint… time travel. Confusing time travel.
The narration was excellently done by numerous voices. Each chapter/story was done in a different voice then at times new chapters that focused on a different character had a new narrator. It was a bit odd at first since I got used to (and liked) the first narrator but I got over it.
I really enjoyed the characters and the storylines in this book and heartily recommend it to anyone who likes sci-fi/fantasy. OSC leaves the door wide open for the sequels and a good litmus test for me is would I read/listen to the next one in the series? For Pathfinder, I would.